Affordable Art Fair
Affordable Art Fair
Handmade Art and Craft sale
Purchase amazing one-off Art and Craft at W3 Gallery's annual Art sale. 
Featuring 30 West London creatives and a huge range of work - from ceramics, to paintings and textiles. Prices range from £10 - £60, a perfect place to shop for you or your loved ones!
The gallery is open:
Monday 10 - 2
Tuesday 10 - 2
Wednesday 12 - 3
Friday 10 - 2
If you are free to help in the gallery at weekends, please get in touch. 
The gallery will then be open 10am - 2pm. Check back for the full schedule soon.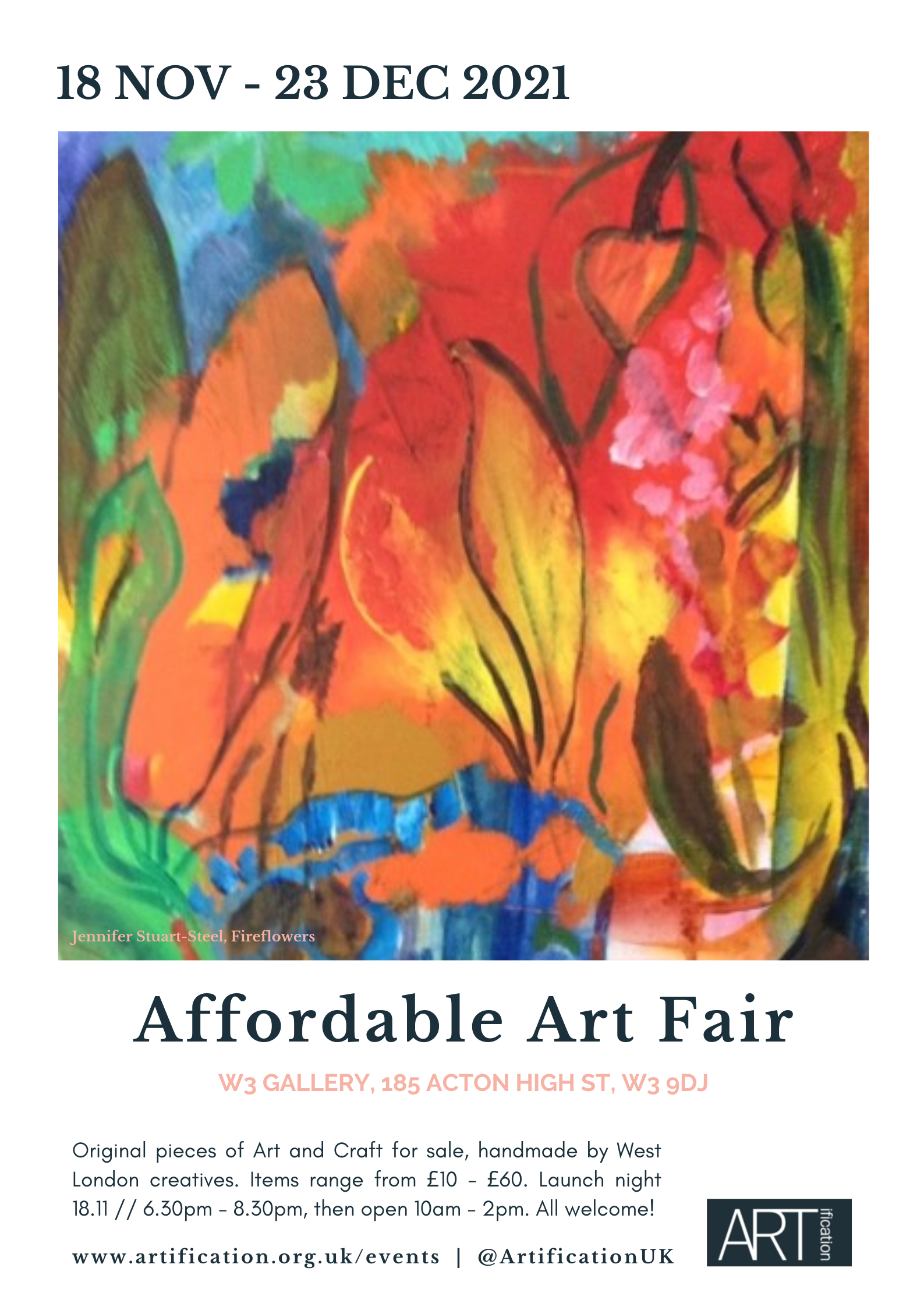 About the Artists:
Ann Philippas
Bio: Having graduated with a BA (Honours) Illustration degree from the London Metropolitan University in September 2012, I have gone on to produce a great many watercolour illustrations over the years, in most of which I enjoy recreating scenes from classic children's books and films.  My colours and themes tend to be quite dark, yet I sometimes manage to include an element of cosiness in my images as well.
I am half Greek/half British and was born in Athens and brought up in Corfu.  I was diagnosed with Asperger's Syndrome in 2005 and came to live in England in 2007. I have managed to exhibit and sell many of my paintings during my time here and have been working in Day Centre settings for the National Autistic Society for almost 6 years now.
AP1 // Down in the depths, £12, A4
AP2 //A quiet Night in, £12, A4
AP3 // Sheltering From the Storm, £12, A4
 
Artful Dodger
@ArtfulDodgerLondon
Bio: Mixed Media Painter
Assorted
 
Amanda Wright
@4manda66 
Bio: A local hobby photographer and member of Ealing and Hampshire House Photographic Society since 2004 and a judge for the Chilterns Association of Camera Clubs and Photographic Alliance of Great Britain. Now most of my more recent photography has been taken on an iPhone and I also enjoy creating digital art and effects from these images. 
AW1 // Faded Tulips 1, 30x40, £45
AW2 // Faded Tulips 2, 30x40, £45
Brenda Gabriel
Bio: My ceramics are functional decorative quirky pieces.
BG1 // Canal Hanwell painting, £60
BG2 // Ceramic container, £50
BG3 // Ceramic Jug, £35
BG4 // Ceramic bottle, £30
BG5 // Ceramic platter. £40
BG6 // Ceramic box, £15
Cat Sparrey
@Cat.Sparrey
Bio: I am a born and bred Acton based Print Designer. W3 is a firm theme throughout my work; as is the use of bold neon pink. I graduated from London College of Communication (UAL) in 2012 with a degree in Surface Design.
Bags:
CS1 // W3 Tote Bag (pink / black) £12
CS2 // Acton Mama Tote Bag, £12
Cards:
CS3 // Acton Birthday Card / Acton Christmas Card, £2.50
Prints:
CS4 // Acton W3 Risograph, A5, £6 (unframed), £16 (framed)
CS5 // Flowers A4 Screenprint, A4, £12 (unframed), £20, (Framed)
CS6 // Acton Mama Screenprint, A4, £12 (unframed), £20, (Framed)
Champa Gloria
Bio: I am a retired painter and artist, based in London. Having always had a strong passion and love for art, I began painting again in 2019. My work is influenced and inspired by my love for nature, family, people, and memories of childhood and life experiences.
 
CG1 // The winter Chill, 30cm x 43cm (w/h), £60.00 
CG2 // City Lights, 25cm x 18cm, £40
CG3 // Winter wanderings, 30 x 43cm, £60
Eva-Joy Lawrence
@evajoy_art
Bio: I am a multidisciplinary artivist whose ideas circulate around protest, apocalyptic possibilities, climate change and utopia. I have a degree in Fine Art and Art History from Manchester School of Art and The University of Barcelona. I am currently based in London and I have always lived in cities; the grit and absurdity of which are often captured in my works. I regularly use recycled materials and objects collected from the streets to make work as an act of non-monetary exchange, community cleaning and through which I enjoy subverting the elitism which surrounds the art world.
 
EL1 // Red Sky at Night, 30x23cm, £40
EL2 // Docs, 15x20, £13 each / set £50
EL3 // Joya, 18x25, £24
EL4 // Part Rock, 49x40.5, £38
 
George Richardson
www.georgewrichardson.com
Bio: George Richardson is a multi-media artist from Cheltenham, Gloucestershire, living in London. Richardson is studying MFA Sculpture at the Slade School of Fine Art and a member of The Associate Studio Programme, an award that provides 10 recent graduates with subsidised studio space in central London.
 
GR1 // The Wrong Tool for the Job, A4
Janet White
@janetwhteceramics
Bio: Janet White is a ceramicist who works from her home studio in West Acton. She has two ranges of work currently, Her range of blue and white stoneware pieces are decorated with Chinese motifs and connects Janet to her Chinese heritage. Her second range of vessels are inspired by the sea and are decorated with up to six glazes, all made in Janet's studio.
 
JW1 // Budvase bottle white lava, £30 each
JW2 // Budvase turquoise/midnight , £20 each
Jennifer Stuart-Steel
Bio: I am an urban painter who works with both acrylic paint and water colours. I have lived in worked in Acton for a many years and much of my inspiration comes from places around Acton, like Gunnersbury reserve and Park.
JSS1 // Autumn Leaves, £35
JSS2 // Fruit and Vegetable Stall in Acton Market, £25
JSS3 // Fireflowers, £50
JSS4 // Late Blooms, £50
JSS5 // The Old Shed, £35
Laura Bodo Lajber
www.laurabodolajberartist.com
Bio: Hungarian born artist with Spanish heritage, exploring the essence of primitive cultures, mother nature, folklore, and their influence in the modern world.
LBL1 // Moondance, 20 x 25cm. £50 
LBL2 // Freedom, 28 x 32cm, £50
LBL3 // The Wolf and the Moon, 20 x 20cm, £50 
LBL4 // Dream Owl, 20 x 20cm, £50
________________________________________________________________________________________________________
Laura Gompertz
www.lauragompertz.com
Bio: Inspired by pattern and colour in the natural world. My art is based on observation of nature. I like to closely study the world around me and really explore how something is put together by working though a series of drawings and paintings. My latest work explores the spectacular world of bees, beetles and sealife! My background is in theatre design, both sets and costumes. For the last decade I have run my own interior design company alongside my art practice.
LG1 // Autumn Leaf (Yellow), 20cm x 20cm, £60
LG2 // Autumn Leaf (Red), 20cm x 20cm, £60
Lorna MacRitchie
www.lornamacritchie.net
Bio: I completed a Bachelor of Fine Arts (Hons) at the University of New South Wales Art and Design in Sydney in 2015. During this degree, I also studied in the USA at the University of Connecticut under Master Printer Laurie Sloan. I then completed an MA Fine Art in 2019 at Central Saint Martins. I am currently working with sculpture, drawing and printmaking in order to experiment with non-referential forms that play with tactility and construction. This painting is made from studio scraps - an intentional link to the 'lives' of other sculptures I've made.
LM1 // Oval, 25cm x 19.5cm, £50
Martin Lau
www.martinlau.net
@martinlauartist
Bio: My practice reflects lifelong fascinations with the functional environments associated with the corporate/industrial/municipal, and with a non-dualistic conception of the world, which both feeds and is informed by my interest in Buddhism, where states considered to be binary opposites can co-exist in the same time and place.
ML1 // Covered City 3, A3, £30
ML2 // Covered City 4, A3, £30
ML3 // Covered City 8, A3, £30
ML4 // Covered City 12, A3, £30
ML5 // Covered City 13, A3, £30
Peter Filbey
pmfilbey.wordpress,com
Bio: Peter Filbey. Artist since 1986. Produces local scenes, street, park and river scenes, landscapes, seascapes, modern art. Works in oils and oil pastels, from sketches, photographs, memory or imagination.
PF1 // Lammas Park, Ealing, 28x23, £60
PF2 // Buttermere, Lake District, 38x31, £60
PF3 // Sunset over the sea, 29x24, £50
PF4 // Chobham Common, Surrey, 20x20, £50
PF5 // River Scene, London, 19cmx19cm, £50
PF6 // Bosham Harbour, Sussex, 29x24, £50
 
Polina Porotikova
Bio: Polina Porotikova was born in Russia and have been living in London for 25 years. She works on canvases and boards with acrylic. For the last 5 years she finds an inspiration from painting flowers and still life. Her paintings are recognizable with bright and bold colors , which sometimes are not realistic and come from her imagination.
PP1 // Garlic and Onion, 23x23, £50
PP2 // Roses, 23x23, £50
PP3 // Chrysanthemums, 23x23, £50
PP4 // Peaceful Day, £50
 
Rosanna Henderson
www.rosannasmosaics.com
@rosannasmosaics
07961 134 033
Bio: I am an Ealing Artist making vibrant, contemporary mosaic art for indoor and outside spaces. I love the creative process and take pride in the finished results. I love colour and nature which provides me with my main inspiration. As a professional member of BAMM "British Association for Modern Mosaic" I take delight in reinterpreting this ancient art form to make it relevant to today's audience. Mosaic art is my passion and my aim is to open people's minds to the variety and varied forms a mosaic may take.
RH1 // Blue Bird, 29x29, £38
RH2 // Blue Glass Suncatcher, 15x30, £60
RH3 // Deconstructed Sunflower, 20x20, £45
RH4 // Green Fish, 23x20, £28
RH5 // Red Fish, 23x20, £28
RH6 // Coasters, £6
Ruby Khan
www.rubykhanart.wixsite.com
@rubykhansartlife
Bio: Ruby Khan is a London based contemporary artist; graduated with a Fine Arts BA(Hons) degree at the University of East London. She specialises in printmaking, painting, photography, sculpture and installation. Her work triggers ideas around the diversity and history of London from a personal perspective. Her work is celebrating the physical and emotional journey; art supported her throughout her life in speaking and writing. At the age of five, was diagnosed with a speech-language impairment affecting her self-confidence. Inspired by German expressionist art as she uses shapes, abstract colours and gestural mark-making. She is available for commissions.
RK1 // Photographic Etchings, A4, £60 (multiple)
Safia Aslam
Bio: I'm Safia Aslam, an artist who lives in Acton. I was born in Pakistan and received a bachelor's and master's degree in fine arts from the National College of Arts. My major in college was printmaking. I placed first in a poster competition and then third in an oil painting competition. I received a scholarship for BFA. "Knots" was the theme of my thesis art piece, which I used to depict the complexity of feminine identity.
SA1 // To the girl in the yellow scarf, 35x25, £55
SA2 // Live life in warm yellows, 23x29, £55
Sarah Olive Edwards
@sarahtonin_seeker
Bio: Learning in my thirties that I'm autistic has resulted in a journey of reflection, re-evaluation and self love. I paint those who identify as women and non-binary in order to improve compassion towards my internal & external self, relearning a lifetime of neurotypical conditioning and the effects of capitalism on the way I view myself, and to see bodies as the work of art they are. I create mixed media pieces, primarily using acrylics, and simple materials such as gel wax pens and oil pastels.
SOE1 // Twigs, 20.8x25.6, £45
SOE2 // Tyreece, 23.5x32, £45
SOE3 // Sarah, 32.7x43, £36
Sheila Moylan
www.sheilamoylanart.com
Bio: Sheila Moylan is a local artist originally from Ireland.  She has a B.A. (Hons) Fine Art Sculpture from U.E.L.  Since 2015 she has been self employed as an artist and art/singing tutor working within Ealing. Previously she worked in schools.
SM1 // Celestial Swan, A3, £55
SM2 // Dagda and Boann, A3, £55
SM3 // The Dream of Oenghus , A3, £55
SM4 // The Swan Maiden, A3, £55
Tincy Patel
outsidein.org.uk/galleries/tincy-patel
@art.tee5
Bio: I'm a visual artist. My work reflects existential Experiences, is often autobiographical but not limited to internal insights. Down the spectrum Having a deep connection with nature I've become receptive to the external world around me.. Through this lens Im able to value form and transition unveiling the wonder of fleeting moments. This dance between the contrasting world's inner and outer elicits my curiosity to create and capture. My methodology is experimental however i mostly take to paintings and photography. I have a diverse range of styles from abstract, realism to animation/graphics. I use acrylics and watercolours along with found objects. My curios nature keeps me from committing to a particular style or medium.
TP1 // Together as a Piece, A5, £60
Tom Cullen
tom-cullen-portfolio.blogspot.com
Bio: Born in Dublin, Ireland I have lived in the UK since 1988. I was previously awarded Diploma in Visualising at Rathmines College of Further Education in 1980. In the UK, I have studied Fine Art Painting at Hampstead, Slade and St. Ives Schools of Art. I have also completed courses in the history of Modern Art at the Open University, Tate & City Lit and MOMA, New York.
I'm a local artist, I like painting and drawing with any medium. I've exhibited with W3 for a number of years and I like the idea of being involved with bringing art to community.
TC1 // A Untitled Acrylic on canvas 30 X 20cm    £55 
TC2 // B Untitled Acrylic on canvas 40 X 30cm £60 
TC3 // Ou allons-nous? Acrylic on canvas 15 X 21cm  £35 
TC4 // Alpha  Acrylic on canvas £35  15 X 21cm £35 
TC5 // Omega Acrylic on canvas 15 x 21cm £35 
TC6 // Something Is Changing 2 Acrylic on canvas 35 X 28cm £55 
TC7 // Yellow Painting 5 Acrylic on canvas 31 x 23cm £45 
TC8 // St. Ives  Acrylic and oil pastel on card  31 x22 cm  £50 
TC9 // C Untitled Acrylic and card on canvas 30 x 20cm £45 
TC10 // Untitled Acrylic on Canvas 36 X 28cm £60 
Vivien Phelan
www.ceramicandglass.co.uk
Bio: I won a scholarship to art school as a teenager but my parents didn't allow me to take up the offer, so instead I had a good enjoyable nursing career. When I retired I got to art school and did a degree in ceramic and glass. I have shown & sold my work in many places, UK & abroad. In July 2020 I was part of " Home is where the art  is" and jointly won series 2 , episode 11 on BBC1, my world got turned upside down with so many commissions, which I am still working on . The first time I showed my work after university was with Rachel Pepper, Director of ARTification's, support.
VP1 // Dog with no name, 23x14x25, £48
VP2 // I want a good home, 27x15x25, £40
VP3 // Sleeping Cat, 12x15x25, £50
VP4 // Smug cat in red, 23x8x22, £50
 
Vivienne Caley
www.viviennecaley.vistaprintdigital.com/
Bio: My work is about fundamental shapes and the use of pattern and colour to suggest harmony and spirituality. I am from Ealing and have exhibited in the USA and other parts of Britain and in London.  I have taken part in the Borough of Ealing Art Trail. Also I have exhibited in the W3 Gallery on several occasions.
VC1 // Pattern 1, 18x13, £30
VC2 // Pattern 2, 26x20, £50
VC3 // Grey Shapes, 26x20, £50
ARTification Team
A big thank you to all the generous time given from the gallery volunteer technicians, including Amanda Wright and Peter Filbey who supported the hanging of the show, as well as everyone who make the show happen from start to finish. The Affordable Art Fair was curated by local Artist, Joe Richardson.
Bio: Joe Richardson is an artist living and working in Park Royal, he has previously undertaken residencies in New York City, Beijing, China and Stokkøya, Norway. He is a recipient of both the Red Mansion Art Prize and the Cass Art Prize.
In 2020 and 2019, he received commissions from Universal Music Group to create a collection of video works that are on permanent display at their London Headquarters. Richardson is a Central Saint Martins, MA Fine Art Graduate (2018)."
@joepdrichardson
Events organizer
TEL:
Email:
info@artification.org.uk