Love Acton
Love Acton
The Love Acton project encouraged people from the local community to get creative. Helping us to produce an Acton 'brand' to be used throughout town for the summer of 2012!
2 month timescale to inform, engage and involve Acton people: 29 art workshops, 186 taking part actively designing, 28 creative sessions, 10 public events involving 350 people, 8 digitalisation opportunities, 5 Youth Projects, 102 participating organisations & 1,000?s attending our final celebration.
Acton Community Forum and Acton Arts Forum were commissioned by Ealing Council to develop the following exciting community art projects as the 'Love Acton' campaign:
?    'Love Acton' logo
?    'Art in the bag'
?    Town centre banners
?    Town centre mural
?    Town centre event flags 
?    Acton Traders Group logo

These projects formed a part of and complemented a wider range of town centre improvement projects funded by the Mayor of London?s Outer London Fund and Ealing Council.
All the 'Love Acton' campaign projects had to:
involve as many Acton residents as possible during conception and creation
help people appreciate and explore Acton?s unique qualities ? including local heritage, local shopping, community facilities, strong and diverse community spirit ? and identify what makes it distinctive
lift the spirits of those who see the artwork, as well as the spirits of those who are involved in its creation
look cool, be of high quality and represent and complement Acton?s character, community, appeal and heritage
be (if appropriate) weather resistant, robust and vandal proof
require little or no maintenance or cleansing
age gracefully
Anyone of any age could contribute to the 'Love Acton' campaign and contributions came in any form, including paintings, prints, photography, graphics, poems.
Project Dates
Project Start On:
Project End On:
Funded by
The Outer London Fund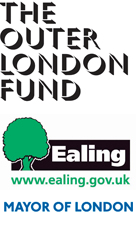 Project organizer
Rachel Pepper
TEL:
Email:
rachel@artification.org.uk