GATHER Exhibition @W3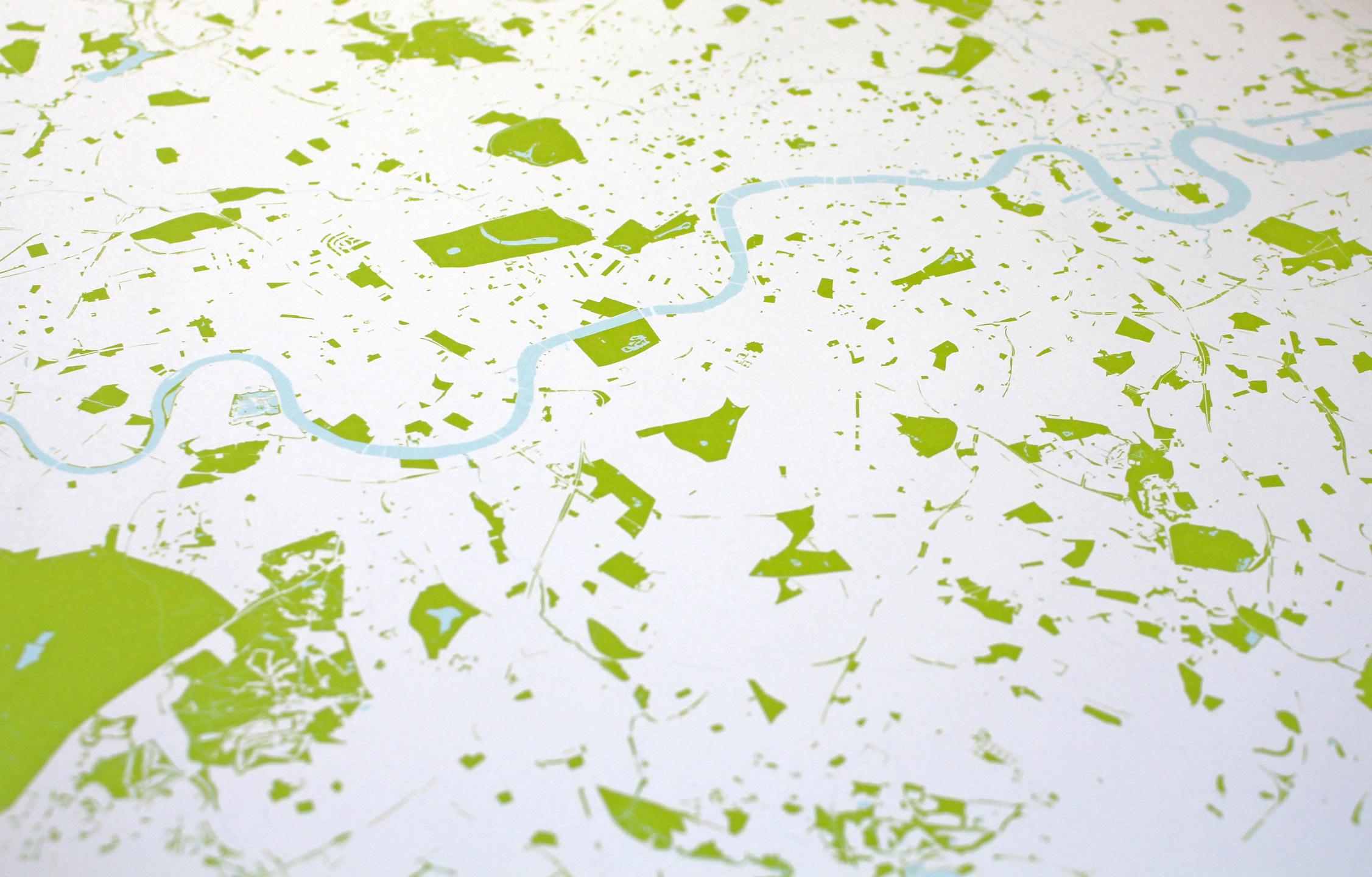 GATHER Exhibition @W3
Harvest exhibition 16/09 - 23/10
This year's Harvest exhibition, GATHER, is open at W3 Gallery!
GATHER features a range of work by 30 local and international Artists, centred around the theme of coming together, whether this be through food, community or culture. The collection of work offers an imaginative response and interaction with the environment, giving visitors the chance to view nature, urban or rural, with a new perspective. 
Open to all:
Monday // 10 - 2
Tuesday // 10 - 2
Wednesday // CLOSED
Thursday // 10 - 2
Friday // 10 - 2
Saturday // 10 - 3
Sunday // 11.30 - 1.30
This exhibition is accompanied by a series of events and artist talks. Visit the events page to find out more. 
All work is for sale. Find out more about the featured Artists below: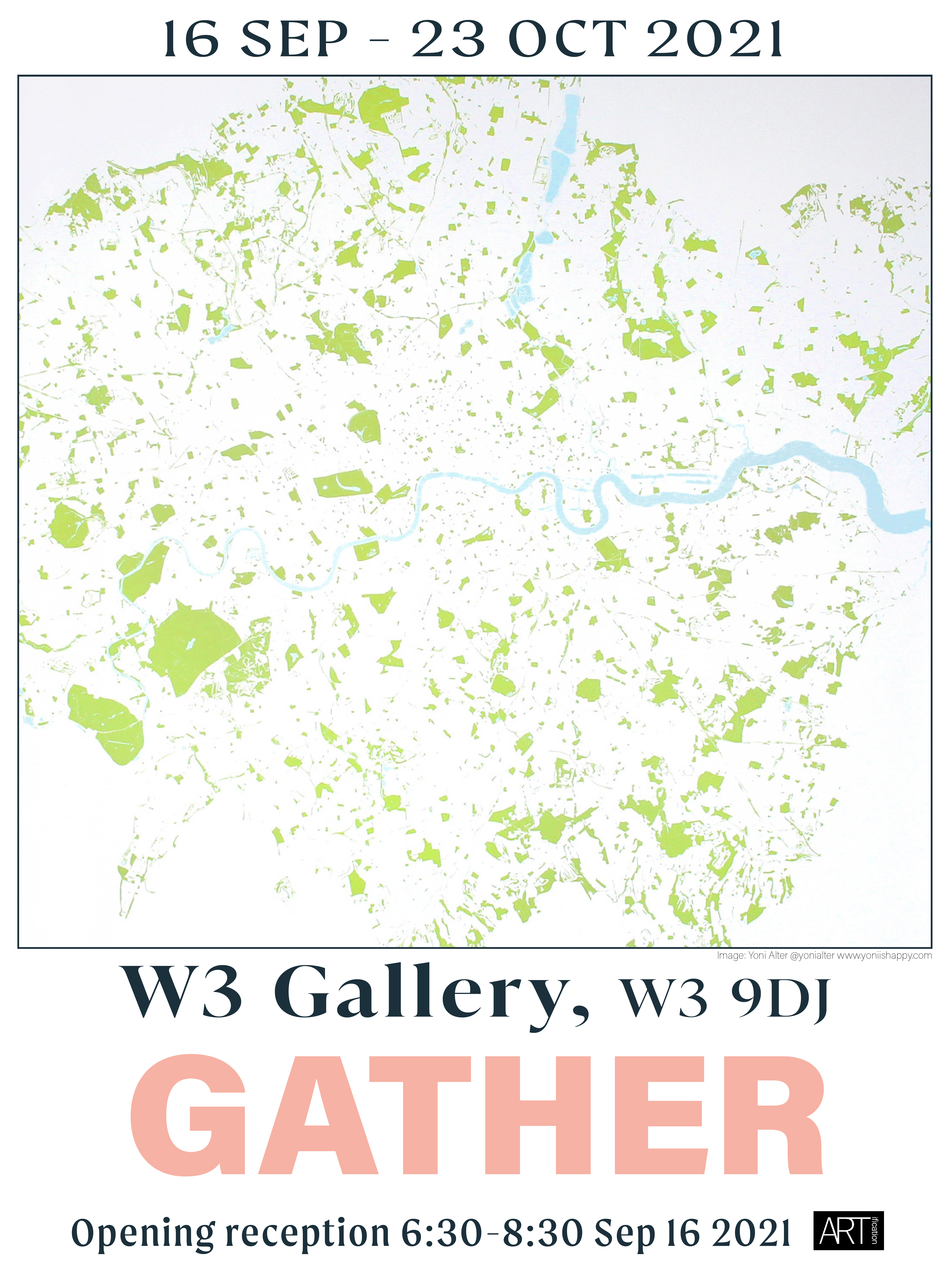 Keith Miller
Bio: Keith is an artist with additional needs who has been painting since he was 6 years old. He has designed signs for Hanwell Zoo where he has exhibited his art work,  some of it is displayed around Hanwell Zoo as well as in the art box studio. His art work is inspired by nature in particular animals and he has developed his own style and a sense of colour, 
which is very bold and unique! He particularly like straight lines, he is passionate about it.
Keith attends the art box studio every week to paint and develop his art work with great commitment, he missed the studio very much during covid restrictions. 
"Painting is nice, good and fun"
"I like straight lines"
''Painting is for me''
" I like people seeing my work"

Yoni Alter
@yonialter
Green London, a map of London with nothing except London's green spaces
Catalogue no. // YA1
Davide Amato
@lewavite
Bio: Davide Amato is from Castellammare di Stabia (Italy), and he is currently a lecturer in spacecraft engineering at Imperial College London. He started listening to electronic music and soundscapes during his studies, as the lack of lyrics made them more suitable to focused work. With time, he developed a fascination with sound synthesis which has been informed by his work on the dynamics of satellites in the Earth-Moon system. His sensibility has been shaped by living in the American Southwest for a few years, and by his mindfulness meditation practice.
Description: Dunnottar is a collage of field and radio recordings. The work invites the listener to rethink their relationship with their surrounding environment by meshing sounds classically associated with the "natural" (ocean waves and seagulls on a Scottish beach) and the "artificial" (public transmissions on the LF and MF radio bands). Do these categories still make sense today (or ever)? What are the consequences of considering ourselves as separate from nature, or un-wild?
Robert Burrows
Bio: I'm a local artist, I like painting and drawing with any medium. I've exhibited with W3 for several years, and I like the idea of being involved with bringing art to community.
Catalogue no. // RB1
Alessandro Carboni
@alessandro.carboni.artist
Bio: Based in London, Alessandro graduated with a BA(Hons) in Fine Art from Middlesex University and an MA in
Fine Art from Central Saint Martins. He has exhibited internationally, and his pieces are part of private
collections in London, Milan, and Athens.
Description: 'Meat Mincer' is part of my hybrid series where I add legs to a variety of objects. A chicken soup carton, a diver's helmet or a birdcage are examples of the objects that I have used in this series.
The addition of legs transforms these objects into absurd, ridiculous new species. They are now living creatures able to move independently. This is my way of investigating the meanings associated with the objects that I transform.
'Meat Mincer' explores the notion of food production with an emphasis on meet production and consumption. A meat mincer is transformed into a sort of cartoonish cow, the processing tool evolved into the processed animal. The sculpture makes us reflect on animal welfare and our relationship with animals intended as commodities.
Catalogue no. // AC1
Fernando Cari
Description: My work is titled 'Green Space' is conceived from being outdoors and as an imagined ideal of a forest. The tree house depicted evokes the sensation of shelter, a space to rest once the harvest is gathered, a grain store in a forest of dreams.
Catalogue no. // FC1
 
Sara Choudhrey
@sarahchoudhrey
Bio:  Sara Choudhrey is a London-based artist and researcher, using an investigative process to explore themes of space and place through shapes and pattern.
Sara's practice involves the construction and application of patterns using a variety of media, where geometry and natural forms become reference points to site-specific locations around the world. Sara is interested in human engagement with these spaces, both natural and man-made, and considers their impact on each other beyond a specific time and place. Pursuing the concept of continuity, Sara has conducted practice-led research on visual culture from medieval Spain and Portugal, Mughal era sites in Pakistan and Islamic art in the British Arts & Crafts Movement.
Description: Changes in environment, man-made productivity and hybrid adaptability govern and manipulate interactions within and without natural space. Driftwood merges the physical flow of water into the material form of wood to provide a visual interplay, an interaction that signifies resistance, compromise, and conformity. The conceptual realm explores our relationship with the environment, our impact on space and its impact on us.
The juxtaposition of free-flowing medium absorbed and solidified over time within the surface of the wood is a documentation of process as well as physics. Etched with shapes forming borders, the use of geometry is not simply a surface design but a demonstration of purpose and adherence. In Driftwood the pattern becomes a tool, leading the liquid, a method which contends against the natural inclination for liquid to seep into and stain the material.
Catalogue no. // SC1
Tom Cullen
Bio: Born in Dublin, Ireland I have lived in the UK since 1988. I was previously awarded Diploma in Visualising at Rathmines College of Further Education in 1980. In the UK, I have studied Fine Art Painting at Hampstead, Slade and St. Ives Schools of Art. I have also completed courses in the history of Modern Art at the Open University, Tate & City Lit and MOMA, New York.
I'm a local artist, I like painting and drawing with any medium. I've exhibited with W3 for a number of years and I like the idea of being involved with bringing art to community.
Description: I started my series on the theme of Climate Change "Something is Changing" in 2018, from an idea originally conceived at the W3 Gallery. In these abstract pieces, I use bands of colour to suggest temperature, atmosphere and the changing shape of the landscape and oceans. I leave the viewer to formulate their own views and interpretations. In the light of the continuation of adverse, catastrophic, and fast changing weather conditions, I see these paintings as relevant today as ever.
Catalogue no. // TC1
Chizuru Eagling
@22studio_london
Bio: She was born in Osaka in Japan, grew up in Nara and then moved to London where she has lived for nearly 30 years.
She is a teacher, artist and uses these skills to bring peace and human rights into community activities in West London while raising funds for local projects and natural disasters around the world.
Chizuru loves creating art from her imagination and discovering new technique with traditional material.
Catalogue no. // CE1
Doris Ernst
@dorisernst
Bio: I am a big gatherer of found objects. I love all things that are weathered or rusty, that have wrinkles or cracks. Because this is how I feel getting older. Imperfection is beautiful and many things that are carelessly discarded deserve our attention because they all have a history and tell a story. Some become something new by putting them on display or using them for artworks and/or they inspire our imagination. They all have value even though others decided they would not need them any more, by cutting an old tree or tearing down an old house.
Description: "Memories of time" deals with gathering memories of places and people. The way we remember are mostly little snippets that are interconnect. I used a spatula/ scaper to create the squares that are all different and unique as are the moments of time we remember. With the corner of the spatula, I scratched a grid that connects these individual memories with one another. Especially during lockdown, we all mostly had our memories we lived in instead of real places and people. We gathered our own image of the world outside that we were unable to engage with and live in.
Catalogue no. // DE1
"Prints with tiles"  
When I lived in Shanghai very often whole neighbourhoods "disappeared". Old houses were torn down and new, shiny, anonymous skyscraper grew like mushrooms. I found old floor/ kitchen tiles and printed with them. Along a dirty canal used for fishing by local residents I found a net and used that for printing as well. 
Catalogue no. // DE2
Catalogue no. // DE3
Peter Filbey
Bio: Peter Filbey. Paints local scenes, street, park, river scenes, landscapes, seascapes. Exhibits with Ealing Art Group, W3 Gallery, other local galleries, cafes and other venues. Runs painting/drawing workshops; undertakes commissions. Email: pmfilbey@yahoo.co.uk. Website/gallery: pmfilbey.wordpress.com and click on Paintings.
Description: My work 'Allotments, Pitshanger Park', shows small plots of land used by people in the local community, to grow their own fruit and vegetables. The scene shows a mixture of natural and constructed features. I produced the painting using a palette knife, working from a sketch.
Catalogue no. // PF1
Elizabeth Groth
@ea.g
Bio: I am a Texan artist and graduate of studio art & international relations from the University of Texas at Tyler. I recently moved to London and before that lived in Colorado, Arizona, Madrid, Galicia, and Texas. Always bopping around & always keeping an active studio practice. I bounce around in art disciplines as much as I do in life. I've worked in painting, installation, fibres, printmaking, film, collage, small metals, big metals, wood, digital, found object and more. While living in the Sonoran Desert I discovered my love of art education and have since worked as a museum educator. I have been privileged enough to be involved in four artist residencies on three continents - Spain, Morocco, the US/Mexico border, & Iceland (2022). Most recently I was included in the Fort Collins Museum of Art Biennial curated by Leah Ollman of LA Times. My work primarily deals with the ways in which women are viewed - I often incorporate references from famous works of art in order to expand our understanding of femininity.
Description: Taking found objects from around my home with the intent to repurpose and integrate them into my work was already a part of my practice pre-quarantine. This piece features found fabric and pieces of packing foam. The inclusion of foam was a means for me to repurpose those everlasting and unrecyclable plastics included in online purchases during the lockdown. As Oscar Wilde put it, "Life imitates art far more than art imitates life". What new meaning can we find in sourcing our own material during a global lockdown? What can art teach us about life?
Catalogue no. // EG1
Miret Habib
@mirethabib
Bio: Through the lens of a British- born Egyptian, I am concerned with representing and re-understanding the breadth of my culture through my artistic practice. My body of work examines the personal in which it draws inspiration from cultural memory and images that I associate with Egypt. This is explored in my cross-disciplinary practice that is deeply rooted in painterly language in which it recombines the multiplicity of Egyptian culture. Each piece I create is simultaneously an extension of the past, where I have come from and what I have encountered.    
I am interested in the relationship between the depiction of a culture and my experience of it: I embody the role of an interpreter and witness. How do we react when the perception of our reality is challenged? How can we legitimately lay claim to memories – our own or those of others?   
Undeniably the performative staging and arrangement of my practice abstracts the performers as the historical motifs and stereotypes that focus on the Egyptian culture being nothing more than the Pyramids and Tutankhamen. The bias of the Western gaze and the hierarchy of images and visual representation of my culture is examined.  
My work is essentially an unobtrusive glimpse of a vibrant space. A space that I consider home. 
Catalogue no. // MH1 Rababa
Catalogue no. // MH2
Ian Kirkpatrick
@iankirkpatrickartist
Bio: Ian Kirkpatrick has exhibited art across the UK and internationally, with shows in New York, Chicago, Montreal, Berlin, Rome, Rotterdam, and Edinburgh. He has been commissioned to produce work for the London 2012 Olympic Games, the 2014 Tour de France, the Oxford Museum of Natural History, and Normanby Hall. The Artist has produced several public artworks in the UK and Europe and is currently working on a 780m2 mural with MVRDV architects in the Nethlerlands.
Description: "The Triumph of Bacchus" has specifically been created with the theme of social gatherings – and the environment - in mind. Drawing on inspirations ranging from classical art to science fiction, cartoons, and video games, I create hyper-coloured fantasy worlds that reflect our society's mythologies, fears and fictions – and suggest possible futures for civilisation.  "The Triumph of Bacchus" depicts a familiar theme from art history: the Bacchanalia, an ancient celebration of feasting and drunkenness in the wilderness.  Here, the festival has been updated to reflect our modern tendencies towards excess and overconsumption – often at the expense of the natural world.  The artwork features iconography from past artworks - including Titian's 'Bacchus and Ariadne', Maerten van Heemskerck's 'The Triumphal Procession of Bacchus', and Hieronymous Bosch's 'The Garden of Earthly Delights'- and remixes them with contemporary iconography to explore the links between individual liberty and many of the challenges we face today, both socially and environmentally.
Catalogue no. // IK1
Simona Nastac
@simonanastac
Bio: Simona Nastac is a curator, critic and poet exploring the intersections of art, poetry, ecology and social justice. She studied Art History and Theory in Bucharest and holds an MA in Creative Curating from Goldsmiths University, London. She has curated exhibitions and live poetry events in London, Seoul, New York, Berlin, Prague, Cluj and Bucharest. Her work has been featured in various poetry magazines and anthologies, as well as at Cadence Video Poetry Festival, StAnza Poetry Festival, European Poetry Festival, and the exhibition Intertwine our Branches curated by Louder than the Storm. She can be found at: simonanastac.com.
Description: The Kiss (1907-8) by the Romanian-born French sculptor Constantin Brâncuși is considered the first modern sculpture of the twentieth century. Love carved in stone. Simona Nastac's response takes this concept to the digital present and back to the source: the stone bears fruit, we are nature.
Catalogue no. // SN1
Jane Oldfield
@jane_oldfield
Bio: Jane Oldfield was born in Yorkshire, studied at Hornsey Art School and now lives in Twickenham. She exhibits with RAG, a community of west London artists (www.riversideartistsgroup.com) and has also shown with 'Bad Behaviour' in Brixton.  At various times Jane has exhibited her paintings, in Spain, Italy, New York and Beijing. http://www.janeoldfield.co.uk
jane_oldfield 
Description: All Jane's family used to go on fungus forays lead by Prof Reid of Kew. They learnt from him, and other members of the British Mycological Society, how to identify and classify fungi as well as which fungi are safe (and good) to eat and which are deadly poisonous. (Since some fungi are deadly poisonous you must not eat anything that you can not identify correctly.)
"My painting shows some of the most delicious fungi we have found and eaten. But I must admit we have rarely if ever found all these together in one foray!"
The fungi shown are the Cep (Boletus Edulis), the Hedgehog (Hydnum repandum), Chanterelle (Cantharellus cibarius), and the Horn of Plenty (Craterellus corncopioides). They are painted with oil paints on an old breadboard.
Catalogue no. // JO1
Polina Porotikova
Bio: Polina Porotikova was born in Russia and have been living in London for 25 years.
She works on canvases and boards with acrylic.
For the last 5 years she finds an inspiration from painting flowers and still life.
Her paintings are recognizable with bright and bold colors , which sometimes
are not realistic and come from her imagination.
Catalogue no. // PP1 Pears
Catalogue no. // PP2 Lemons
Catalogue no. // PP4 Apples
Louise Richards
@lou.richards
Bio: Louise Richards a recent graduate from Central Saint Martins, MA Fine Art, 2021. Louise's previous careers in hospitality and as a silversmith and jeweller (specialising in enamelling) are evident in her art practice from the skills she obtained in the kitchen and at the jewellers' bench to her interest in food and obsession with colour.  
Description: The domestic environment and everyday aesthetics are central to Louise's practice, and are explored through a combination of mark making, printing, drawing, and photography to create videos, animations, and Pop Art digital prints.  Her work, Random Leaps Converge is currently on display at Wells Art Contemporary.
During COVID, the kitchen and the utensils found within took on new significance, their functionality and materiality became paramount, and it is where her family would gather after a hard day of zooming!
Catalogue no. // LR1
Martina Rohr
@rohrmakesart
Bio: I am an explorer of unknown spaces, of obscure and dissonant landscapes. I paint and draw to map my experiences.
In my work, I am not so much interested in literal physical representation of objects or the topography of a place, rather the way I can explore the subjective nature of perception, translation of memory, history, place and space. I am looking for the potential of structure and atmosphere to conjure the image. My background in philosophy and languages, as well as travel help inform these translations.
I am predominantly a painter of large scale abstracts in oil, although I am increasingly incorporating drawing into my work. Painting allows me to mould my images, to cut, scratch and layer my surface allowing the image to unfold over time. My drawing is more immediate, using mark making, materials and composition to inform my painting, as well as stand alone as finished work.
I savour the possibilities and surprises of the materials themselves and the possibilities of interpretation.
Description: Enjoying a restful moment just before darkness sets in, looking over the fields and ponds after a day's work, feeling the last rays of warmth embracing you.
Catalogue no. // MR1
Jan Stevens
@janstevensart
Bio: My paintings are in UK private collections Selected for Exhibitions at Royal Watercolour Society Open in London, NAPA Summer Shows at Chichester and St Ives, Water Street Gallery Todmorden, W3 Gallery, Orleans Gallery, The Bowman Gallery Richmond.
Jan in Conversation
'My ethos is fluid, open and colourful. Water flows, so does my abstract art. I am inspired by our amazing ocean, river and coastal landscapes, a quality-loving creative mother and a mathematical engineering fun father. Cornish raised, state-degree-educated, global business wise and South West London living fuse to celebrate my creativity. Painting for me is very freeing, momentary and healthy. Once a piece is finished, I remember a curious happiness from a time well spent.
I often pour water based paints, preferring acrylics for their range of consistency. Gestural brush marks create movement with more solid shapes adding a depth and floating sensation inspired by nature. I like to use companies with a sustainability focus such as St Cuthberts paper mill in Somerset or Fabriano in Italy. I have a reuse/recycle policy.
Description: Togetherness is sharing Liquorice Laces
Eating together in a sweet environment brings appreciation and pleasure to everyone involved. In particular liquorice is a healthy food. It is good to enjoy and give at Halloween when Trick or Treating is a real community fun time. The artwork has a textured finish as it is painted in acrylics on Artistico 'rough' watercolour paper by eco- friendly manufacturer, Fabriano.
Catalogue no. // JS1
Deepa Khanna Sobti
@deepa.khanna.sobti
Bio: Deepa Khanna Sobti is a multi-awardwinning artist, poet, and philanthropist whose work has been shown worldwide in over 40 solo and group exhibitions. 75% profits from her practice are donated to several charities that she is closely associated with.
My work, paintings and corresponding poems point to the need for slowing down to the knowledge base from which we act and operate, and to realize the inherent and almost too obvious wholeness and oneness which always already is. This slowing and objective seeing shows us how separation is a learned human concept and does not exist in our true and real experience. Once this is seen, life is effortlessly about sharing and living in awe, wonderment and joy.
These qualities cannot be learnt through a lens of separation using time as a platform but rather seen as our truest identity already.
Catalogue no. // DK1
Julia Weston
@shedstudio52
Bio: I'm Julia Weston and l live in Acton. I'm an educator and artist, working from my shed studio in my back garden. My work is mixed media - acrylics, collage, printing, line work and stitch. Current work is on cradled panels which allows me to work up layers of richness and history and then knock them back to expose and develop a textured, worn effect. 
Description: These artworks were created as a way of capturing the worn beauty of changing urban landscapes and preserving some of the cultural references; much of my inspiration comes from the facades of buildings in Portugal, once covered by historic tiles which are being ripped from buildings due to rapid  redevelopment. In some work the shapes and forms of the tiles have been reconfigured, in others they're more hidden, representing the passing of time.   
Catalogue no. // JW1
Catalogue no. // JW2
Catalogue no. // JW3
Xiaoling Jin (Kim)
@x_iaoling
Artist Bio: XIAOLING is a fashion humanwear and digital designer based in London. She graduated from the Royal College of Art MA fashion womenswear in 2021. Due to the creativity and diversity of design work, she's been awarded several design awards both in fashion and other collaborative fields and she has also been endowed with many scholarships. Her multidisciplinary skills and interests bring her work to a crossover world between the digital and physical space. She always seeks to build an emotional connection between garments and wearers. Her work is informed by values such as community, sustainability, emotion, and full immersion. Project: Under the Shell When I bear the shade, consciousness light a newer world. When I touch my skin, they breathe, and I feel at ease. When I listen to the language of the space, the message is infinity. When I open my eyes, a moment of the future is glimpsed. Instagram: @x_iaoling
Catalogue no. // XJ1
Catalogue no. // XJ3
 
Events organizer
TEL:
Email: