People & Place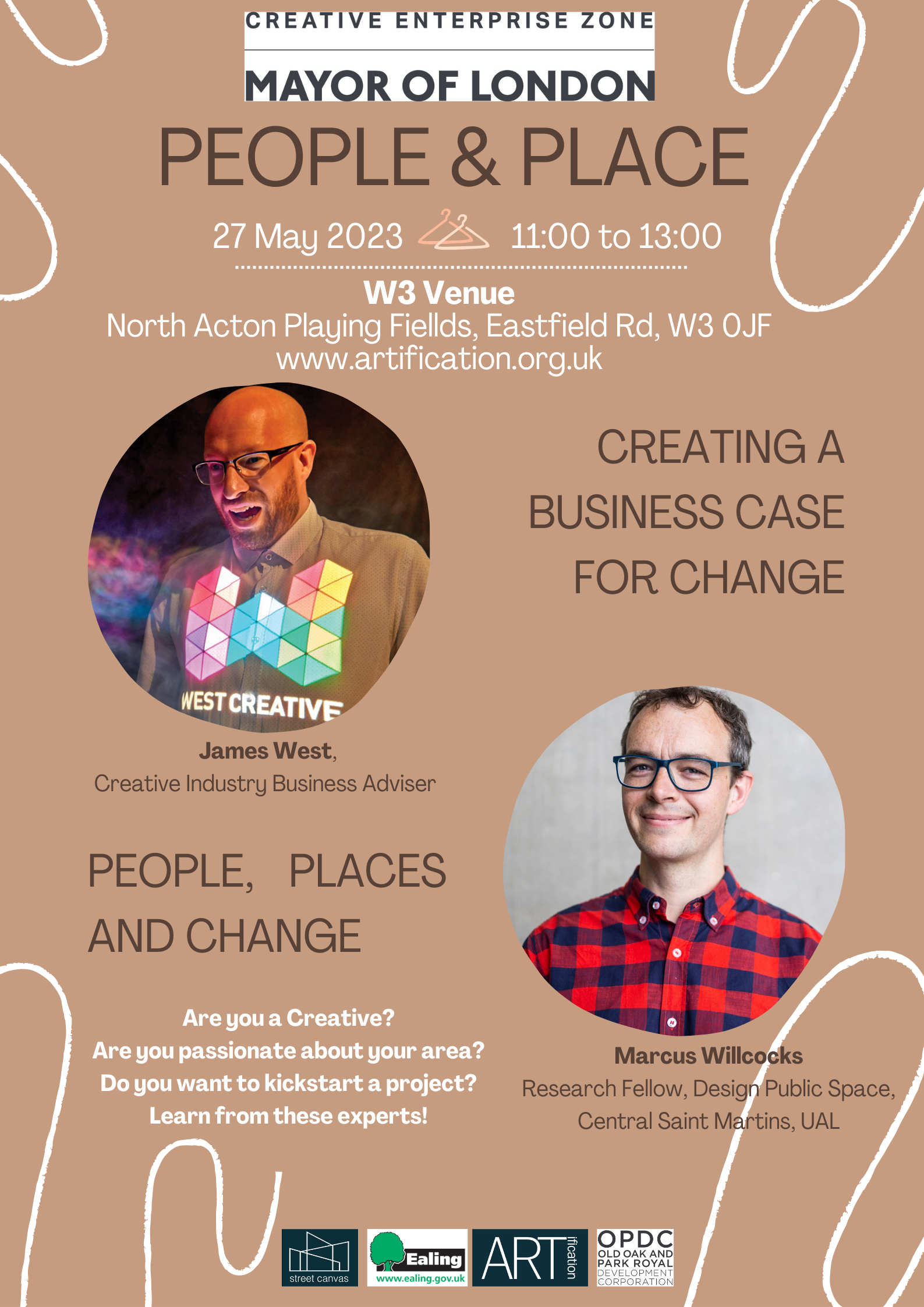 People & Place
Creative Industry Business Advisor: Creating a Business Case for Change including: careers advice to growing a small practice. & University of the Arts on Placemaking.
Creating a Business Case for Change. Creative Industry Business Adviser James West will run an upbeat presentation of how to turn an idea into a business case. From public art projects to community run workshops, whatever your idea James will talk you through a reality check of how to make it happen. He'll cover finding funding, gaining support, evidencing your idea and planning priorities. The session will include a Q&A in which you can ask him anything about the Creative Industries - from careers advice to growing a small practice.
People, Places and Change. Community-led designer and practice-based researcher, Marcus Willcocks (Sustrans, Central Saint Martins/UAL, Place Bureau, Design Council) will introduce a number of tools for diverse voices to hear from and speak back, in material and sensorial ways, as our relations and experiences with North Acton & Park Royal change. Through sprint workshop activities, we will consider how different voices may be included or not, amid changing 'languages' of place, and work with others in the session towards a vision for a neighbourhood with creativity and soul that includes you!
Hosted by ARTification. We are working with residents and artists to promote the local area and create two public art installations. Community engagement includes pop-up events, inclusive and participatory conversations, training, celebratory events, and exhibitions.
Anyone with an interest in the Creative Industries, has a project in mind, interest in Placemaking…. Eventbrite sign up: 
https://www.eventbrite.co.uk/e/creating-a-business-case-for-projects-or-community-projects-tickets-634568560647
W3 Venue, North Acton Pavilion
Eastfields Road, Acton, W3 0JF

Events organizer
TEL:
Email:
rachel@artification.org.uk