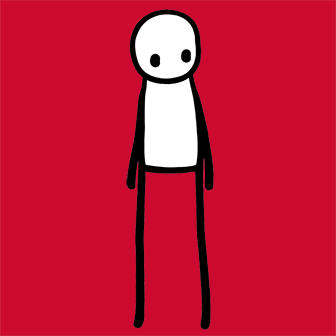 About your organisation
Stik became a Patron of ARTification in 2016.
Stik initiated MyMural project with Central St Martins School of Art, GLA the Mayors office and ARTification in 2016.
Stik created the tallest street art as part of the Acton Street Art project in 2014.
We first met in 2014: "In the spring of 2014 I stood with Rachel in the Acton estate looking at the wall she had offered me for a new mural. It was the first floor of Charles Hocking House, a 1960's, high rise tower block earmarked for demolition.  How about ALL of it I asked, gesturing to the 13 storeys of pebbledash slab looming above us. Rachel's eyes widened slightly and after a pause said '…I don't see why not'."  
The rest is history....
Some background: Stik started painting unofficial, socially conscious murals in his hometown of Hackney, East London in 2001. His simple stick figures wordlessly tell the story of his community and he frequently collaborates with hospitals, charities and homeless organisations. Working from his East London studio, these projects are largely self-funded and he now creates monumental artworks with communities across the world.