The Pollution Jewellery, on sale at the W3 Gallery's Affordable Art Gift Shop, the work of Roisin Tierney, a West London illustrator and researcher, forms part of a lively and engaging multi media installation.
What I particularly enjoy about this work is the mix of media: the construction of the quirkily pleasing copper pipe display stand, and also the fact that, to me, the resin jewellery featuring encased diesel soot has echoes of the semi precious stone rutile quartz.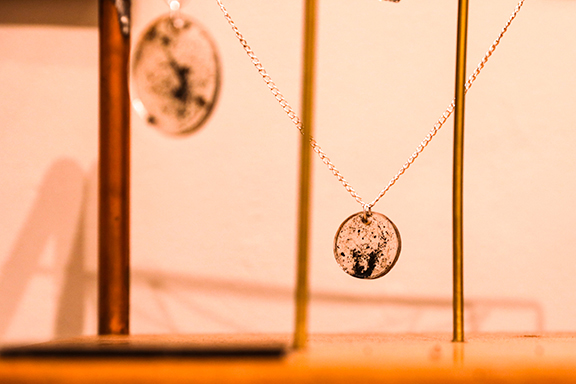 Roisin believes that "Illustration is a tool for promoting and interrogating sociological and environmental issues". Her recent work, explores topical issues including pollution, homelessness and the ongoing conflict in Northern Ireland.
This piece on show at the W3 Gallery includes a video display of the collection of the diesel soot from beneath the Westway, a custom made display stand which plays with the aesthetics of consumerism, plus the Pollution Encased jewellery, all of which encourage the viewer to engage with the work and the issues it addresses.
Photo Credit: Jonah Rees, Northfields Camera Club