Greening South Acton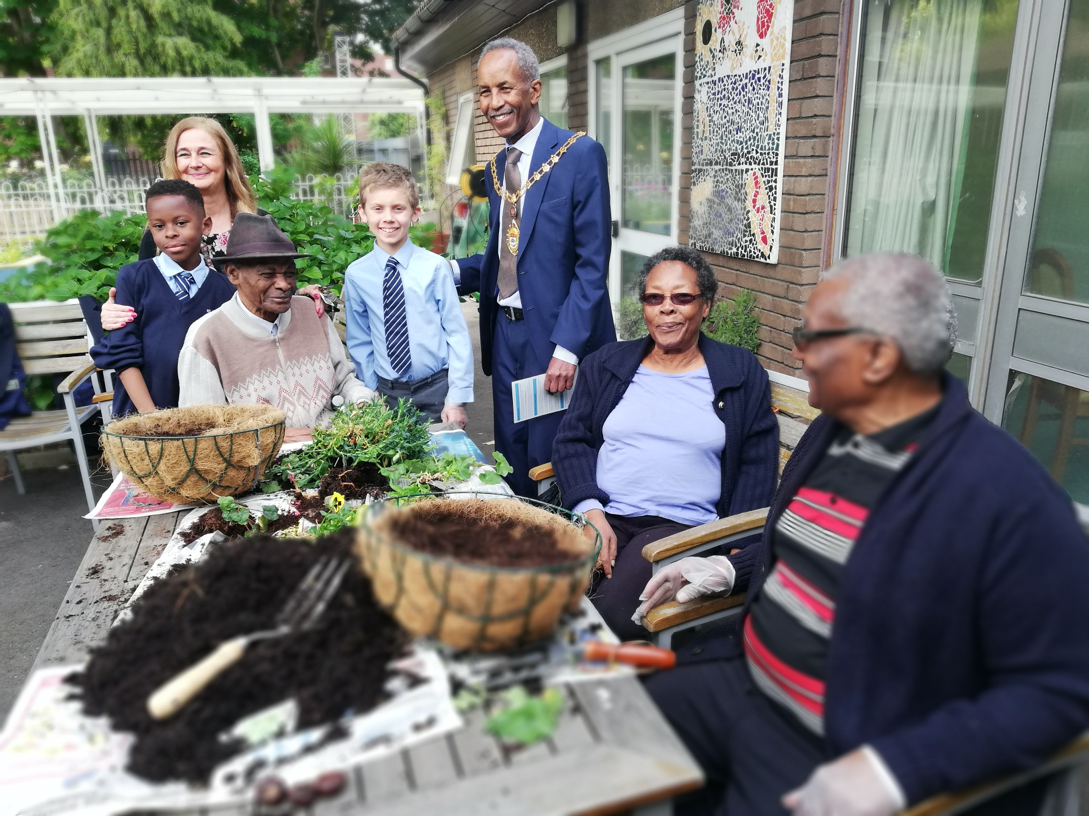 Greening South Acton
The Project:
Greening South Acton responds to the wishes of the Residents to advance the Green Refuge project of 2018, with a new project that will improve the environment in the area and create an edible orchard in South Acton 2019.
Greening South Acton is working with residents, school children, youth, elders and other community members to cultivate and look after the established planters whilst developing new environments to plant vegetables, herbs and flowers based on the identified sites and suggestions. We have been meeting with local residents interested in developing the project, site meetings, and ideas for the project. Already, through meetings and discussion, local residents have come forward interested in being a part of this project, and planting activities have begun.
The project includes tidying, replanting and replenishing planting within the Redbrick raised beds with either wildlife friendly herbaceous perennials or seeded with wildflowers. These beds are in the centre of this part of the estate that leads to the lower area that will be the link to the main garden.  The walls that form the boundary to the space have the potential to be given a fresh mural coverage to link the wall with the growing project taking place. We aim to develop the space through raised beds and orchard trees using a native hedging mix to mark out the start of the growing space. We also plan to plant an orchard, reconnecting residents with where food comes from and making South Acton an 'edible environment'. We are working in partnership with Ealing Parks department and have planned the orchard trail starting from The Rec on Bollo Bridge Road. We will plant the trees in November.
We are running workshops with residents and community groups, holding community events to engage people in food growing, arts and community activities.  Establishing a core resident team, and involving other residents in the different project elements of growing, tree planting, creative workshops, eco-art and community engagement activity, local residents will shape and develop the project.
Where:
Green sites:
a number of sites in the Redbrick area, raised beds & including Michael Flanders Centre garden

existing Green Refuge sites of Harlech & Corfe Towers community gardens, and

the 'edible South Acton' orchard established on permanent sites across the estate.
Workshops will be held on various outdoor sites across the estate, community venues, as well as at the W3 gallery.
Aims:
1. Resident engagement & investment in the South Acton environment
2. Create Urban green spaces and ecology
3. Community health & well-being nurtured
Schedule
Start date: January 2019
End date: November 2019
Project Diary:
January -

Advertise plans, meetings with community, resident engagement and community leadership developed.

5th January -

Visit growing sites with Cultivate London & ARTification.

15th January – Planning meeting with residents & partners with Sheltered housing representation, Cultivate London, Redbrick RA, ARTification, ATM, residents with gardening interest.
29th January – Estate sites options explored further.
15th February – Meeting with Berrymede Junior School
12th February – Kew Gardens inspiration visit
1st March - Redbrick Residents engagement meeting.
5th March – Michael Flanders project partnership meeting.
19th March – South Acton estate walk about.
26th March – Mapping and selection of potential orchard sites across South Acton with residents, LBE Park Rangers, Cultivate London & ARTification.
27th March – The Living Room youth project meeting & creative session making mandalas.
28th March – Present project to residents at public meeting with 50+ residents.

April - Renovation of existing raised beds / planted areas. 

14th May – Wild seed planting & vegetable seedling planting with Berrymede Junior school pupils
22nd May – Community planting day at Michael Flanders Centre open day.
30th May – Raised bed community planting.

May - Build additional long raised bed within the square and repair existing planted beds.

May - Planting of native hedging.

May - June -

Make eco-art work.

1st June – Block Party with gardening & eco-activities.
July - Install bird boxes.
June- September - Maintain and develop the garden areas.

September - October – Harvest festival, community event & exhibition

November - Planting of fruit trees & orchard trail created
Project Dates
Project Start On:
Project End On:
Funded by
Acton Gardens Community Chest

Project organizer
TEL:
Email:
rachel@artification.org.uk