MyMural, Acton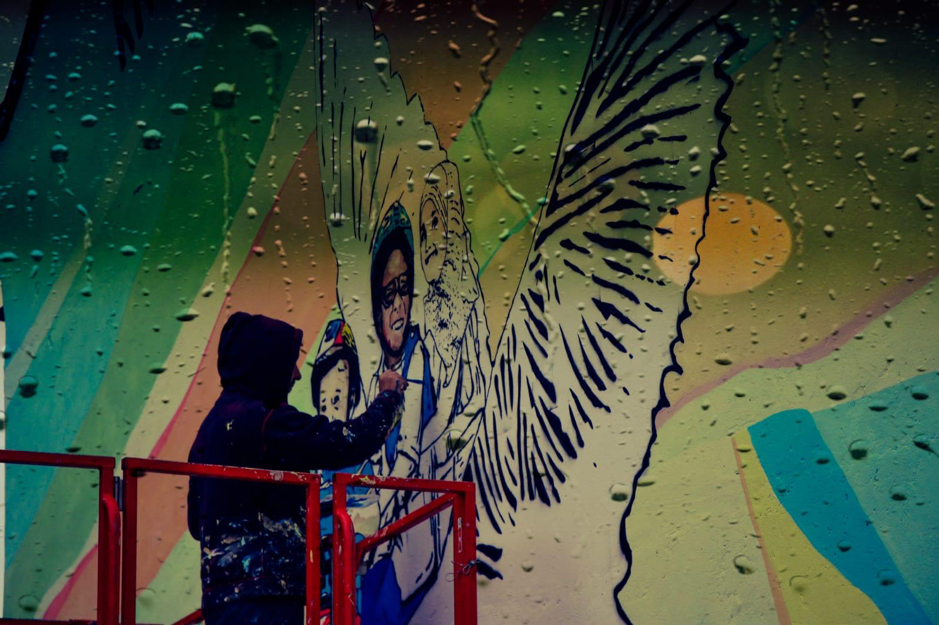 MyMural, Acton
MyMural inspires, enables and normalizes the possibilities for new artworks among everyday settings. Thanks to support from Cockayne – Grants for the Arts (London Community Foundation), GLA Mayors Office and a Charity Auction donation from Stik, we are very pleased to announce that the MyMural is coming to Acton. Over the coming year, this pilot contributes to an important sea change in the way artists work with residents in the city.
MyMural brings together internationally experienced collaborators from arts facilitation, practice-led academic research and engagements, together with regional and local authorities and a world-renowned street art practitioner to bring new opportunities for high-quality artworks to happen in new contexts in London.
The goals of this project are to:
•                Open access to spaces to be transformed into open outdoor galleries, thus supporting creative placemaking and enhancing London's creative offer.
•                Provide opportunities for the commissioning of new work by young and emerging artists, whilst nurturing their talents and skills in street and mural arts practices.
•                Promote new approaches to enabling art and culture in the capital through a scheme and artworks that is experimental, risk-taking and engages large and diverse audiences.
The Mayor of London has highlighted culture as one of his key priorities. He is committed to ensuring that London retains its status as the world's leading capital city for culture and creativity and ensuring more Londoners access arts and culture. A key feature of London's Cultural Infrastructure Plan is to give outstanding artists opportunities to make exciting new work, encourage Londoners to get more involved in creative activities, as well as cultivate London's creative value by opening access to the use of spaces as open galleries.
MyMural benefits are multifaceted. For the Local Authority experiencing austerity measure pressures, spending and administration are reduced and responsibility is devolved to communities. By ensuring residents and artists talk to each other to resolve any issues without having to go to the local authority. For Artists the project increases the number of wall spaces and gets new works off the ground and on the wall. It pilots new ways of working with residents to achieve high-quality art in people's everyday contexts. For Londoners the scheme is democratic, ensuring that local residents are engaged in the commissioning process of quality works. It also enables arts practice opportunities and offers artist workshops to local residents.
ARTification is working with Ealing Council, South Acton residents, Acton Gardens and the MyMural partnership team from Central Saint Martins, the GLA, artist Stik, and Wood Street Walls to deliver the Acton pilot activities as an embedded part of the wider MyMural project.
Potential Sites:
☞ Frampton Court, Avenue Road, London W3
☞ Buckland Walk, London W3
☞ Berrymede Infant School, London W3
✎ Deadline for Expression of Interest (EoI) and submission of related materials: 6th May
Follow @artificationuk  or subscribe to ARTification's newsletter to get the latest news and event information straight to your inbox!
Project Dates
Project Start On:
Project End On:
Funded by
Cockayne Grants for the Arts (The London Community Foundation)

Project organizer
TEL:
Email:
rachel@artification.org.uk